Meet Christine!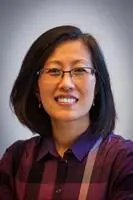 Marianne Tomlinson Therapy, LLC is very excited to have Christine Kim working with our staff!
Christine received her Master's Degree in Counseling at Northwestern University. While her undergraduate and graduate level work has been outside the counseling field, she has taught, advised, and served people from a diverse population such as international students, immigrant families, and business professionals in academic and social settings. She holds a Bachelor's Degree in Religious Studies: World Comparative Religion Track and a Master's Degree in Intercultural Studies and Teaching English as a Second Language from Wheaton College, IL.
Christine believes that every life matters. Everyone's journey presents different seasons of joys, challenges, and unknowns. The way in which one navigates around those circumstances ushers in stress, potential growth, hope, and/or change. How well one chooses to respond is a reflection on the self in the process of transformation, new opportunities, health, and wellness. Christine enjoys exploring and working with people from all seasons of life and backgrounds. Of particular interest to her is working with those who experience tension or challenges in navigating through: anxiety, stress, identity, grief, divorce, relationships, and adjustment issues. She respects the inherent dignity and worth of every individual and aims to create a safe, caring, and non-judgmental atmosphere for clients to feel valued and hopeful.
Christine approaches therapy holistically as a means for individuals to feel heard and respected, to better understand themselves and others, and to explore alternative options to gain confidence, healing, and strategies through life's daily and long-term goals. She desires to assist clients in this therapeutic process by providing empathy, open communication, and insights in the struggles and concerns of every person she has the opportunity to work with. Christine considers it a humble privilege to walk alongside clients to serve them in reaching their full potentials, goals, and healing.
To make an appointment with Christine, call Marianne at 630-337-6571.
Meet Christi!
Christi Johnson is a licensed professional counselor (LPC) and received her Master's Degree in Clinical Mental Health Counseling from Northwestern University. She earned a Bachelor's Degree in Business Administration with Distinction from the University of Kansas and prior to entering the field of counseling, Christi worked in the pharmaceutical industry in sales and sales leadership roles.
Our emotional responses to people and situations do not go away simply because we do not give attention to them. Unresolved feelings will bubble up and can damage our relationships and our physical health-and are linked to depression and anxiety. Christi is passionate about helping individuals heal painful emotional experiences so they can be free to pursue their dreams and achieve their life goals.
Christi utilizes a number of therapeutic approaches to help clients achieve their mental health goals. She completed training in Accelerated Resolution Therapy (ART) which has been proven to provide relief from the strong physical and emotional reactions associated with post-traumatic stress (PTSD), trauma, anxiety and depression. Christi also has training in Emotionally Focused Individual Therapy (EFIT). EFIT helps individuals explore their emotional and relational patterns with the goal of uncovering underlying needs, fears and dreams. This integration equips them to create meaningful, nurturing connections with themselves and others.
Christi works with clients to address a variety of concerns including:
Healing from trauma-including childhood, racial, religious and relationship
Depression and Anxiety
Grief and Loss
Relationship conflict and divorce
Sexual and Gender Identity
Career Development and Life Transition
To make an appointment with Christi, call Marianne at (630) 337-6571.